Business Card Maker - design and print the perfect card!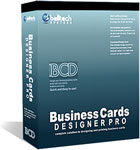 Create your stunning business cards easily. Business Card Designer, a feature-rich professional quality business card creator program, helps you create amazing cards with shapes, logos, cool arts and print them right-away on any Windows compatible printer. See some screenshots of this business card software. Also see some samples of business cards designed using this business card program.
Key Features:
Quick and Easy Design: Select and draw shapes and text. Resize, tilt, change color, fill with gradient color or do anything with your design elements.
Use templates and graphics: Don't know how to start the layout of your card? Use our card templates, background and clip-arts to start with easily. Simple to use yet so powerful!
Convenient Design tools: Can draw rectangle/triangle/circle or any freehand lines and shapes.
Stunning Background: Use the supplied backgrounds or use your own. Anything is possible and is easy.
Use Color blends: This is a unique feature of this business card software. You can now have a color blend the way you want, the control is in your hand. Remember, this is not a static background image, but a filled shape whose color-blend and texture you control completely."
Use your own clip-arts, logo, photos: We supply you with many graphics that you can use, but don't think that it is all you can use. Get your own picture, logos, clip-art and design the perfect card you want.
Supports any printing papers: Supports all standard business card papers from Avery and other suppliers.
Choose any card size: With version 1.1 and above you can choose any size from 1 X 1 inch to 5 X 5 inch. The choice is yours. The US standard is 3.5 X 2 inch or 2 X 3.5 inch.
Customize printing: Want to print 1 card or 5 card? You decide and watch the printing!!.
Save as image: You can save your work as bmp, jpg, gif, png image and take it to your favorite print-shop to have professional printing done.
Reasons to buy
Business Card Program: When you purchase our software you will get more tempates, background pictures and clip-arts. You get free minor upgrades and discount on major releases! You don't have to spend hundreds of dollars for thousands of cards that you don't need.

Use this software to make as many cards as you want with as many different. styles as you want. Try out and see the power and convenience of it.
Special offer!
Buy all our products (Business Card Designer, Small Business Publisher, Label Maker and more) at one low price $99.95, that's 50% discount!
Click here
to order now!
Benefits to count on:

1) Add image or any shape and make them partially transparent so that the images or shapes below it will be partially seen through.
2) Add shapes with color blends that changes color smoothly to the other color.
3) Create 2-sided cards with ease.
4) Supplied are tons of professional card templates for all major industries for quick turn around and to gives users a great sense of professional card design.
5) Last but not least, support questions go directly to the original developer, and thus instant and quality tech support.